Always Wondered About Colonics But Weren't Sure Where To Start???
Dr. Mark Baker is a certified Colon Therapist and has done more than 80,000 colon irrigations throughout his 25+ years at Baker Chiropractic. He has written 2 booklets: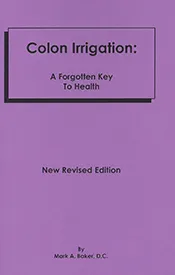 Food Combining, Fasting and Colon Therapy
Both booklets are available for purchase for $3.95 each at both locations.

Discounts are available for large orders.
Nutritional Book Sale

50 % - 75% off the original price
some titles include...
Who switched off your brain? - leaf
Cleanse and Purify Thyself - Rich Anderson
Baron Harvest - Peter Lind
Molecules of Emotion - Dr. Candance B. Pert
The Secret- Rhonda Byrne
Heal Your Body- Louise Hays
Call or come by the office to browse the selection.