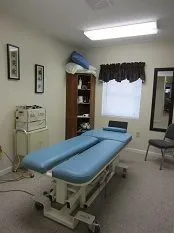 Chiropractic Adjustments Methods done in our office
Equalizer: This technique your Doctor will use a small hand held instrument to make small light forced thrust. This is to reduce the spinal misalignment by restoring normal function to the spinal nerves which allows the patient's body to operate more efficiently. The instrument is designed to deliver a light fast thrust without undue discomfort to the patient.

See Q&A in the Services tab under Chiropractic for more information on the Equalizer method.
Flexion Distraction (also know as Cox Technique) is a chiropractic technique used to treat many conditions of the lumbar spine (lower back). It is a non-surgical technique aimed at increasing spinal motion and improving overall function by reducing disc bulges and disc herniations. Dr. Jason is trained in this technique and specialized table especially for lower back issues.
Diversified: This is a manual adjusting technique and is the method which most people think of when regarding chiropractic adjustment. You most likely will hear some noises and popping when being adjusted with this technique. We do not use this type of method in our office.